L A   V I L L A   V I T A   N E L S P R U I T


5 minutes from the Nelspruit CBD

In the middle of Nelspruit surrounded by nature reserves yet only five minutes from the Central Business District is the "The Villa Life".  An elegant Tuscan mansion with high ceilings, stone walls and complete facilities appointed with the finest furnishings surrounded by beautiful gardens and with excellent privacy and security.  Here weekenders, business & holiday guests enjoy the peaceful and relaxing atmosphere of lodge style living in the middle of the small but vibrant city of Nelspruit.

La Villa Vita offers the perfect combination - the ambiance of a guest house with the amenities of a small boutique hotel.  We invite you to enjoy a massage or treatment in our small Spa, a Jacuzzi on our private Sundowners Patio, a cocktail next to our large Pool, a business meeting in the small Meeting Room, the gourmet dinners in the Grand Hall Room or a private dinner in the Piano Room - maybe even with your own private pianist.  Or just relax under an umbrella at the Pool Garden. 

All the facilities are for guests' exclusive enjoyment with excellent service all around.  Stretch out next to the pool while being served your favourite drink, stroll in the exquisite gardens or go for a leisurely hike in the surrounding nature reserves.  Get your pulse racing on the treadmill or with the free weights in the gym.  Ask for a private dinner and Jacuzzi on the Sundowner Patio or just kick back and relax on a couch on the Pool Patio - perhaps with a magazine or book from the small library. 

Like to have your own bush braai experience?  Then ask about the Boma a short walk from the main building.  Whatever you prefer, we know that our accommodation will evoke both luxury and style and leave you wanting to return soon.

*  La Villa Vita reserves the right to without notice have conferences, weddings and/or  

  functions from time to time at the venues mentioned above.  Extra costs may apply to some

  items listed.


Book now at:    Tel: 061 475 0525 (office hours) or 013 752 5370 (6:30 to 22:00)    or    Email: admin@villavitanelspruit.com

Click thumbnails to enlarge...

Centrally located in Nelspruit!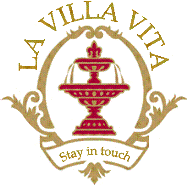 * Centrally located in Nelspruit!

Click here for more feedback

Book Telephonically:


013 752 5370    (7am-7pm)

061 475 0525    (office hours)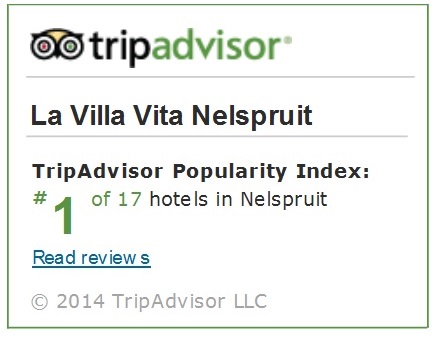 (5/5)
The total experience!  Comfy bed, very friendly staff, wil definitely come back & refer

Brad - 1 May 2015




(5/5)
A courtesy call to remind us of our spa appointment, the place is devine keep up the good work !

Penyane  - 4 April 2015




(5/5)
Hands down one of the best places I have ever stayed

Burke - 8 June 2015




(5/5)
quiet / friendly / very very beautiful , really amazing I love it

Leonel  - 11 July 2015




(5/5)
had an amazing time , great get away , relaxing and serene

Muziwethu   - 10 August 2015